Tour #1
Along the "Great Silk Road"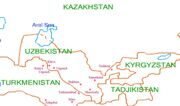 Destinations: Tashkent – Urgench – Khiva – Turkmenistan (Kunya Urgench – Ashxabad, Mary -Turkmenabad) - Bukhara – Shaxrisabz – Samarkand – Tashkent.
Duration: 15 days -14 nights
This itinerary is designed to give you a sort of possibilities:
– We can tailor this itinerary to suit your specific requirements;
– Any aspects of the itinerary can be changed;
In this tour we invite you to explore two countries: Turkmenistan and Uzbekistan. Both countries represent very similar climatic conditions (continental climate), which make combined travel to these two countries a sensible choice. At the same time, both countries offer different experiences, both in terms of historical sites as well as landscapes and culture.
---
Day 1: Tashkent
You will be met by your local guide and driver and be taken to your hotel.
Day 2: Tashkent - Khiva
After having a breakfast at your hotel, you will visit: Complex Hasteh Imam, Museum of Applied Arts, Bazar "Chorsu", the Museum Temuridov. Afterwards you fly to Urgench (distance-1000km, flight 1 hour 10 minutes), where your local guide and driver will be waiting you to take you to your hotel in Khiva (distance of Urgench-Khiva is 35 km).
Day 3: Khiva
After breakfast, you will visit the architectural complex "Ichan-Kala"– an open air museum where you can find lots of monuments inside. After lunch, you will continue of excursion: Juma Mosque with 213 wooden columns and a minaret 32,5 m height (X c), Ak Mechet ( "White Mosque") - a small quarter mosque by the gate – Palvan Darvaza (1838-1842 y), Tash-Hauli – Palace looks like a fortress with high teeth (XIX c), the traditional cultural center of Khorezm Madrassah "Allakulihan". Meanwhile today you will have dinner with folklore in a traditional cultural center of Khorezm (madrassah Allakulihan).

Day 4: Khiva - Tashauz (Turkmenistan) - Kunya Urgench - Tashauz - Ashgabat
After breakfast, you will be driven for PPC Shavat from where you are driven to Tashauz. You will be driven to Kunya Urgench and visit the historic monuments of Kunya Urgench – the mausoleum Nadjmittin Kubra & Turabek Khanim, Tekesha Sultan, Al-Arslan, minaret Kutlug Timur, sublimity Kirk Mulla and the crafts museum in Kunya Urgench. After lunch you will be driven to Tashauz from where you will fly to Ashgabat. Upon arrival you will be transferred to hotel.
Day 5: Ashgabat (Turkmenistan)
After breakfast, you visit the area of neutrality and Ark Neutrality, Independence Park Mosque Etrogul Qazi, the National Museum of Turkmenistan. Drive to Nice – to have a visit to the excavations, the residence of the Persian king, after lunch return to Ashgabat, a visit to the museum of carpets and a large mosque.
Day 6: Mary, Ashgabat (Turkmenistan)
Breakfast at hotel. You will visit the largest and beautiful oriental bazaar. Drive to Mary. On the way visit to the mosque, Sayyid Djemaliddin in the ruins of Anau and Abiverd. Expected to arrive from Mary evening.
Day 7: Mary (Turkmenistan)
After breakfast, you travel the Ancient Margush and the Historical Museum including lunch.

Day 8: Mary - Farab - Bukhara
After visiting the excavations «Ancient Mary», you will be driven to Turkmenabad through Turkmen steppes, Chardzhou and travel across the border in Farabi. After arrival in Bukhara and accommodation at hotel.

Day 9: Bukhara
After breakfast you will have excursion in Bukhara: Mausoleum Samanids Chashmai-Ayub mausoleum, mosque Bolo House Ark, Poi-Kalon complex, and the minaret Kalon Mosque, Miri Arab madrassah, shop carpets. After having a lunch you will continue the excursion: Trading house Tacki Zargaron, Ulugbek Madrassah, Madrassah Abulazizhana, row of trading stalls Tim Abdullah Khan, Trading House Tacki Telpak Furushon, Mosque Magoki Attar, Karavan-Saray, Trading House Tackie Saraffon, Complex Lyabi House. Meanwhile you will have dinner at the madrasah Nadir Divanbegi with folklore.

Day 10: Bukhara
Today you visit Madrassah Chor Minor, the summer residence of the Emir - Sitorai Mohi Hoss, Complex Bagovutdin Nakshbandi, Chor Bakr Complex, the Qur'an schools for women, the home of merchant Khodzhaeva. During city tour, you will have free time & visit gift shops.

Day 11: Bukhara - Shakhrisabz
Leave Bukhara this morning for Shakhrisabz. After accommodation at hotel, visit excavations at the Palace of Tamerlane "Ak-Saray", Complex Dor-ut-Tilovat, Mosque Cook Gumbaz, Dor-os-Saodat, Mausoleum Jakhongir.

Day 12: Samarkand
Leave Shakhrisabz this morning for Samarkand. After having a rest at hotel, visit Guri Amir Mausoleum, Registan Ensemble, Ulugbek madrassah, madrassah Sherdor madrassah Tillya Kari.

Day 13: Samarkand
Explore some of the highlights of Samarkand with your guide, including the Museum of national culture and history of Uzbekistan, Bibi Khanum Mosque, Shahi Zinda Complex, Ulugbek Observatory, Museum Afrosiyab.
Day 14: Samarkand - Tashkent
From Samarkand, you will be driven to Tashkent. Free time at leisure, continue your exploration of Tashkent as you wish. Farewell dinner.
Day 15: Tashkent
Early morning transfer to airport. Departure

End of tour
---
Services included in main tour price:
– Accommodation in the hotels on double/twin sharing bases;
– English speaking guide service (to be ordered);
– Transport service all over the tours including transfers airport – hotel – airport;
– Letter of invitation (if required) for Uzbekistan visa;
– Folklore shows in Bukhara / Khiva;
– Lunches and dinners;
– Entrance fees to the museums, mausoleums and other sites;
– Air ticket for the domestic flights;
Services excluded in main tour price:
– Airfare due to the program (international);
– Beverages and meals not included in main menu;
– Photo and video charges at monuments and museums;
– Cost of entrance visa;
– Personal insurance;
– All personal expenses (extra luggage fee, room services and etc);
– Tips for guides and drivers;
– Trip cancellation / accident insurance;
We hope that our suggested program you like and are willing to accept your proposals to change the program to meet your wishes and requirements. Any suggestions on the tour program are welcome. Tour price provide upon request. The tour cost depends on the services, hotel categories and number of people.